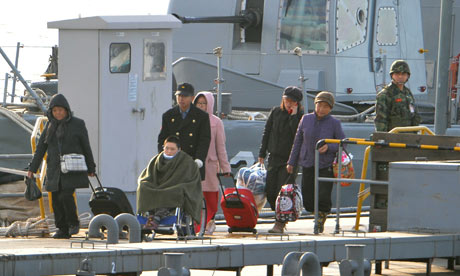 I was shocked when my special friend told me that North Korea attacked South Korea yesterday. The Yeonpyeong Island was attacked by the North Korean troops. It was the surprise dozens of artillery shells attack due to the military exercise held by the South Korean military force and the army of the United States. North Korea claimed that the military exercise should not be held as due to it, the troops of South Korea had started the firing towards North Korea. They claimed that the army of South Korea had fired first and intruded their waters.
I was thinking of Rain and Park Ji Sung. Will they move out from Seoul with their families when the actual war between these two nations becomes a reality? They surely can afford it if they do want to move out. But how about the taxi drivers and the fish sellers of Seoul? Can they afford the cost? Will the government of South Korea evacuate the country and leave the troops to do their work to defend the empty soil of South Korea? This is pathetic. This should not be happening. The urge towards North Korea by the United States should be stopped before the actual war becomes a reality. The pressure on the northern side of Korea will only lead to devastation and destruction, not peace.
What's next after the Korean war? More peace to come? Hell no. There will be more wars. China will interrupt with the Korean war, they will join forces with the southern troops. Japan will becoming more confused and they will start to fly their jets to explode the nation that they think should be attacked too. And vice-versa. The war is coming. This is the final war before the end of the world. When all the nations in the world are fighting with each other, there will be no stopping point. This will eventually lead to the day where the last ammo will be used, there will be no more living human on this earth. We all are going to die.
Wake up, you human races of the world. This is the beginning. The beginning of all the massive destruction of the world. The war will never stop when it has begun. Thus, stop it, do not ever start the war. That is the important preventative stage of saving the world. May GOD bless us and we shall pray for our safety. Amin. -onesensei-
Photo by:
Kim Jae-Hwan/AFP/Getty Images