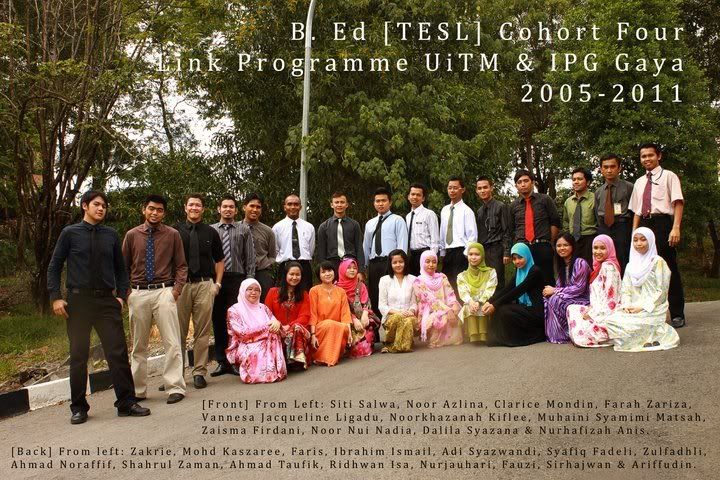 one sensei
h
e is one of a kind. Not usually normal. When he's crazy, he'll do anything beyond imagination. Craving for good stuffs. Keep on changing for the best. High taste in choosing everything. He's very particular about money. The shortage would make him suffer. Interested in cars, photography, online games, computer games and money matters. Most of the time being hated by girls. Out-spoken but a warm-hearted person. Loves adventure kind of activities. Dreaming of becoming a billionaire one day. A heavy smoker with the intention to stop. Likes to scream a lot especially to someone who is screaming because of him. The face shows nothing to represent his warm-heart. He's a good boy, believe me.
Got Facebook? Add him
.
Name: Ridhwan Isa a.k.a. One Sensei
Hometown: Membakut, Sabah, Malaysia
Date of Birth: 7th June 1987
E-mail: one.sensei@yahoo.com / one.sensei@gmail.com
i love colours, daisies, raindrops, and cloudy days. i am very passionate in writing. i am a frustrated shopper because i am very choosy. i dislike lies above anything else. i do not live to other's definition of an event. i believe that i am not judgemental. i have a bad case of sensitive skin. i am an awesome girlfriend and wife. i am in love with mohammed kaszaree. messywhitebook
J
ust a normal guy. Seriously very-very normal. I am the epitome of normality if you may. I'm not a unique person, I am not defined by anything specific, nobody thinks about me as much as I do and I am the best example of being an extremely perfect mediocre. Hah. This is my reality. What's yours? :)


P/s: Don't trust Joe. Seriously.
Name: Mohd Syafiq Mohamad Fadeli (Syafiq Fadeli)
D.O.B: 6th February 1987
Hometown: Rantau Panjang, Kelantan.
Careers: Teacher (to-be), motivator, event manager.
syah_samawism@yahoo.com (FB)
syahsamawism87@gmail.com (FB for students and clients)
I am a very simple person. Really meant it. I like to look at things as moving systems. I hate when I can't see the systems of the things that I am doing. I like arts, such as good songs, good movies (funny, horror and twisted are my priorities). I like food very much. I eat a lot, especially delicious ones. For some reasons, some of my friends call me Dr. Love and I do like it, hahaha. Another thing about me, I like to wordize my thoughts and ideologies, and that makes me feel great. As all of us know, I am not a very good looking guy, but somehow, I am extremely confident on myself. Why? Haaa… itu yang kita tak tahu. I am a guy who loves my religion, Islam. Apparently I don't wear things that I wore years ago, but my heart still feel what I felt years ago, and my mind still think of what I thought years ago. Finally, I don't mind of people's judgments, coz I am an extremely ignorant guy, and I love it that way.
Valossa means 'light' and Valossa Vissaus is the exact translation of his name in Finnish.
What about this guy? Pretty much nothing spectacular except the fact that he enjoys writing, reading, editing creepy photos, eating and smoking cheap cigarettes.
Blogging is his passion. The founder of 'Twenty Seven', you can visit his personal blog Coma Black White via this link. Be warned though, profanity and anger were left without restriction there.
He's an enthusiast in cracking electronic devices, motorbike riding, tea drinking, and writing craps. Currently single, he's very much interested for one night stand and drunk hook ups and kinky animalistic sex...
So you see, he's a very serious guy who is not serious at all
actually
.
You may add his Facebook account here.
p/s: Kzee Tay Kassim who kept on claiming that he's normal up there is not normal at all. Seriously.
Je m'appelle Noor Nui Nadia S.Sham
I was born in Sandakan, Sabah and both of my parents are from Peninsular but I always have the difficulty to explain my origin to people due to various understandings of the word "origin" itself.
I love cats so much. I rarely shop but once I do, I'll shop till I drop.
I am very fond of chocolate chip cookies, pizzas, and takoyaki. But, mum's laksa penang and ketupat palas are the best cure for my traditional food craving.
The beach and the sea breeze are on top of my sightseeing list.
Lack of confidence is one of my main traits but my C4 friends have been very helpful in helping me overcoming it.
I'd like to proclaim myself as a money saver (is there any other catchy term?). I would spend on toiletries (facial cleansing, toothpaste, soap opera) at Giant, stationary at OneStop, foods at Philippine Market (sometimes Hasyim, or Nelta foodcourt). I might consider BundleShop® for my fashion couture. But I think I would wear the same outfits over again till it wear out. I believe it's useless to spend more for something that you can get for lower price. By 'lower', I mean the lowest possible. Foods are an exception, though. I would eat at Pizza Hut, Kenny Rogers, and Subway if somebody is treating me. Just kidding. I won't mind eating at exclusive places with friends (no, I don't spend them, I only eat with them).
Check my facebook for the boring description of me (only add me if you're a Caucasian. Joking.)